Start Shipping Now
We make it easy to ship commercial or house hold good items. Order a cube (46x46x47H) or Tower (46x46x73H). We simply drop off your crate and customer will pack their freight within 2 business days. Let us know when crate is packed and ready for pick up. You Crate ® is safe, secure and easy.

We Drop Off
We drop off your empty crate

You Pack
You pack your goods on your timeline

We Deliver
We pick up and deliver the full crate
The
You

Crate Product

R+L Carriers You Crate is specially designed for shipping your goods. Made of ¾" plywood, the crate is reinforced to protect your cargo. Spring clamps hold the sides and top to the base. Internal tie down points are perfect for securing a heavy item to the base. A small pry bar is all that is required to open the crate. Note: measurements listed are inside dimensions.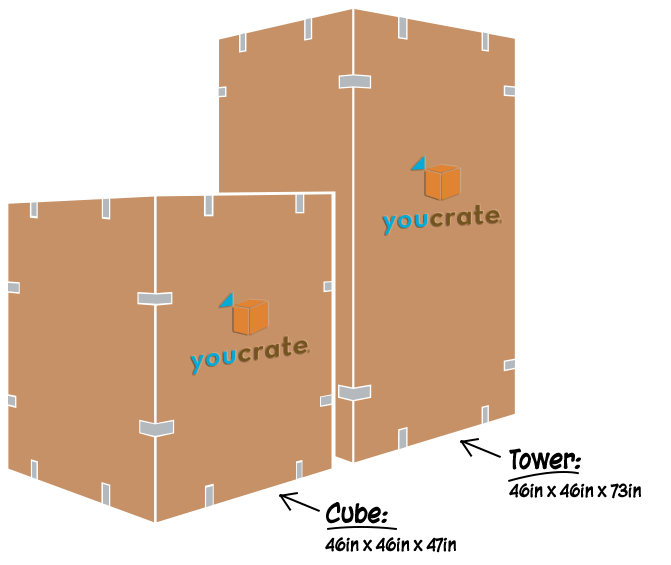 Fast & Easy to Assemble
Returnable & Reusable
Built in Tie-down Brackets
You Crate is committed to providing you with superior service, protection, and handling of your valued assets on your timeline. With You Crate you set the pace of the move, load, and unload of your commercial or residential shipment. Whether you are shipping across the country or need a storage solution, You Crate is there for you.
Trade Show Crating Solutions
Global Opportunities (ISPM-15 Certified)
Pickup and Delivery
Expedited and Guaranteed Service
Liftgate Deliveries

Load & Protect ® service provide maximum protection and security for your valued commercial product. Your shipment remains on the same trailer from origin of pickup through final destination delivery. The trailer is divided with a special tamper resistant wall that includes a Security ID tag with serial number which is recorded on your Bill of Lading.
Get a quote
In every supply chain, products and materials must sometimes move in the reverse direction, back to their source or to a third party handler. We have the infrastructure and global network to manage reverse logistics quickly and efficiently.

When your shipment requires a special service for packing, securing, block and bracing we offer a commercial white glove service. This assures your freight will be properly packed/unpacked and shipped to the customer, all on one invoice. Our White Glove services include:
Multiple person freight delivery
Special equipment for delivery
Packaging at pickup
Unpacking at Destination
Display setup
Debris removal
Self-service moving and portable storage options can be your most economical method of moving household goods. If you're moving out of state (or even across town!), rental trucks and moving vans are not your only option. You Crate is a convenient, low cost alternative.
You Crate delivers specially designed crates right to your door. We drop off the crates and you load it on your schedule. Then, when you're ready, we'll pickup and move your items to their new location!
Get a quote
R+L Carriers is a full service transportation and logistics company. We ship Anything, Anywhere, Anytime and coupled with You Crate we can help you move your goods.

Expedited Services
R+L Carriers offers an entire suite of time sensitive delivery solutions. Affordable services that guarantee your shipment arrives when you need it.
Learn More!

Warehousing
R+L Carriers understands how a warehouse solution can improve your supply chain. With our nationwide network of warehouses, we can tailor a solution for you.
Learn More!
My crates were just delivered from Charlotte, NC to New York, NY. I just wanted to drop a little note saying a big 'Thank You'! You Crate was the best moving decision I made. The service was fast, reliable and the staff was very helpful. My stuff has reached safe and sound and nothing was damaged. Even my mirrors reached perfectly. Thank you, You Crate!

I used You Crate and LOVED the service. The responses from you and the carrier were very timely considering I requested next day service. The goods were delivered in a reasonable time and the price was in line with what I could afford. My daughter is returning to college in MD and we will definitely use this service to ship her goods instead of driving from Dallas TX. Thank you again!

I just want to thank you for all your assistance and great customer service that you provided in getting our daughter's belongings from Indiana to Florida. You were so polite and courteous and made something in this hectic paced world so easy for us.

You Crate is just what I needed: an economical way to get things moved, with the best customer service for those of us with problems! Bobbie and the crew exemplify: "Don't find fault, find remedies". I am so grateful for the service you provide. Please express my appreciation to all those involved in my mother's move, and commend them for a job well done!